I have been very pleased with the quality and performance of Horseguard Fencing for many years now. I own a boarding business and fi nd it durable and dependable. Thanks!
Dianne R. Conroe.TX

I am thrilled with your product & have used it many times over the years. We're about to move our horses into their new barn & I mis-counted the number of tensioners I need to complete the fencing project! I was hoping you offered OVERNIGHT shipping. PLEASE send this order as soon as you can. Thank you for such a wonderful product! Happy Holiday! –
Elizabeth M. Wellington.FL

I have been a satisfied customer for many years. You have the best fencing product on the market!
Linda P. Illinois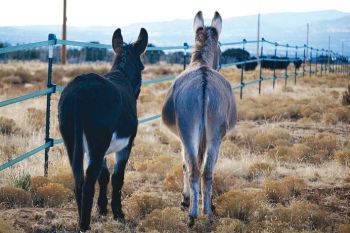 I have the BiPolar fence for my pasture and am now fi nishing setting up a riding area using the white tape and white sleeved TPosts with wood post corners.
I love your fencing products!
 Patricia B.
Grand Island. NY

Your fencing is exceptional! It's been up for more than 10 years and this is the first part that has needed replacement. Thank you!
Harriette J. Santa Paula, CA

I love your products. They are easy to install look great and are of top quality.
Judy S. Dover, PA

We installed our Horseguard fence 5 months ago. I have been very pleased with the whole process.
The satellite property measurements on the website are helpful; the engineering help, and technical help by email and phone were all excellent. All questions were answered promptly to our satisfaction.The fence is easy for lay people to install and it looks great! I installed brown. Several of my horse friends with other fence products have asked about the fence, because it is surprisingly strong and attractive for a do-it-yourself electric fence. It is more expensive than wire, electric rope, and some other brands of polytape but worth it for the strength and safety. It is still quite affordable! We live in Washington state and the fence has weathered a couple of strong wind storms. We have had large branches fall on the fence on three separate occasions and the fence has merely stretched and not broken. In one spot a very large branch (more like a small tree) fell in a spot where we have electric gate handles. The fence merely "unraveled" at the handle and I was able to trim 4 inches off of it and take up the slack and it was good as new! None of the wires in the polytape broke, they just bent a little.
Jennifer C

Love this fencing! Over the last 10+ years that we've had it, it has paid for itself with lack of vet calls if a horse goes through or gets tangled in the fence. With raising young horses I wouldn't have any other type of fencing! KUDOS!
Lynn.B. Balsam Lake, WI

I have used your product for 7 years and I consider it to be the best available. In fact, a hurricane dropped a tree on my fence 2 years ago, and I was able to remove the tree with no damage to the fence.
Carl M., Louisiana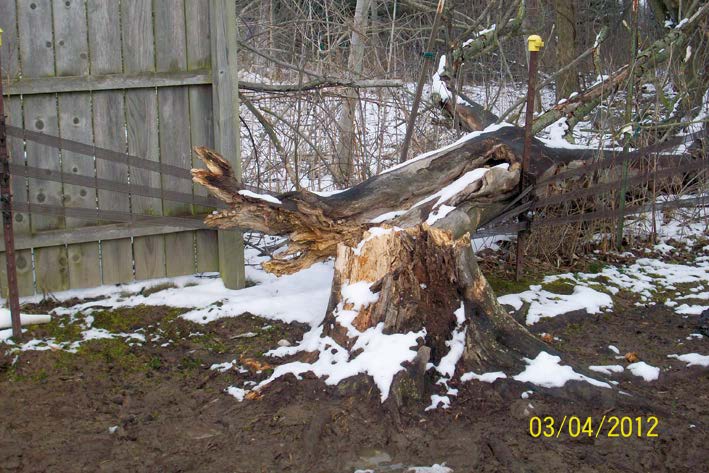 Just lost a long dead tree in our paddock to the strong winds of the weekend. It landed on my Horse Guard fence as you can see in the attached photos. The fence is still working strong, tho I did loosen and adjust some of the insulators to relieve stress till we can remove the tree. Once removed, I, by myself, will snug the fence back up in a matter of minutes! Had a similar incident last year with large branches and repair was quick and easy. horses were safe at all times. Just LOVE my Horse Guard Fence! Thanks for the wonderful product!
Suzanna K. Fulton, MI

I love this fence and the new style of connectors. I have had this fence for over 10 years and would not think of having anything else! Thank you.
Cheryl B.Monterey, IN.

Been using your fence as a deer deterant and it works great. The webbing has to be closer together than with a horse fence but that is the only modification necessary for success.
Allan R.Wadding River, NY

Placed my first order for your fencing 13 years ago. It has held up incredibly well through our many snowy winters as well as a hurricane last summer where a river literally tore our fence posts out. We were able to salvage all of the tape and re use it! Amazing product!! We wouldn't use anything else.
Lisa S. Reading, VT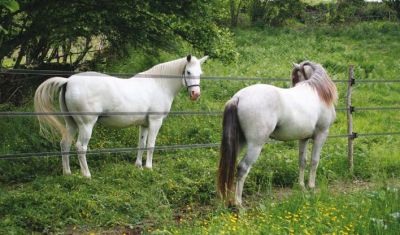 I've had your fencing for 10 years. Annual average maintenance has been about 1 hour per year. 44 years of all kinds of fences teaches me yours is the best.
Sylvia R. Mount Upton, NY

Great fencing we have used this before. Again Great product we are working on 20 Acres and have just about completed half of our fencing project using Bi-Polar fence. Thanks again.
Bill & Sally. Priest River, ID