T-Post Guard Kit Green
$309.00
Description
THE T-POSTGUARD KIT #TPbr #TPwh #TPgr
The HorseGuard T-PostGuard, made in Illinois, our most popular item, make ordinary T-posts look like wood posts at an affordable price but they also make your dangerous T-Posts not dangerous anymore.
Decorative Functional Affordable
Safe UV protected Totally recyclable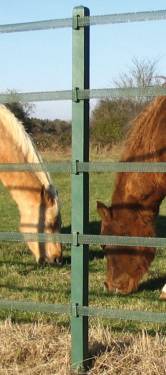 The Kit can be used for 2,3,4, or 5 strands depending on your needs!
I purchased your fencing en 2008! It is oustanding . I put my fencing up by myself and the maintenance is almost nothing .It is so very adaptable when an area may need to be sectioned off I used T-Post Covers and put up the brown tape at 12 24 36 and 48 inches. This keeps my horses safe and secure. A bear even tried to get into the pasture to get mulberrys and was surprised when he touched the fence! He did not got any further In the winter the brown fencing is beautiful. Great Product!
Patricia H. Laurel Bloomery, TN