10 Fiberglass stakes 67'/ 1/2"
$74.99
Description
The Fiberglass Post #7A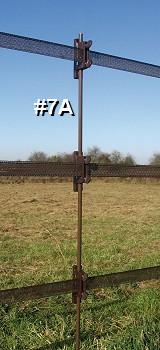 The fiberglass post is essentially unbreakable, rot-proof, rust-proof, twist resistant, and is nearly indestructible.
The post's function is to hold the insulators that hold the tapes at the right height. The insulator is tapped down onto the post, and holds snuggly in position. Their brown color coordinates with the fence tape.
Like the fence tape, the fiberglass posts are designed for year round use even in more extreme weather conditions.
They can be used as a temporary fence or as intermediate posts between the stronger end-posts for a permanent fence.
Some people choose to install a stouter post between every 10 fiberglass posts. Fiberglass posts can be spaced as much as 15 feet apart.
The fiberglass post from HorseGuard is 67″(5.6 ft) and should be set at 15 inches in the ground.
At the gate they can't be used to secure the fence tape tension.
To remove seasonal fencing :
– Loosen the insulators and remove the tape
– Pull up the fiberglass posts
– Unhook the tape from the tensioner at the ends.
– Bundle the stakes and set aside the tapes (or put it on a reel)